I've Been A Busy Little Christmas Elf
December 6, 2022
2022-12-06 14:57
I've Been A Busy Little Christmas Elf
I've Been A Busy Little Christmas Elf
What a week, I hardly know where to start, so rather then writing reams and reams, I'll update you with a little picture diary of my week.
So, where to start?
Remember I was saying the other day that I needed to get my vinyl up in the windows, well this week I did it, all on my own! I had been putting it off and putting it off and trying to rope in various friends to help but, isn't it amazing what you can achieve alone if you put your mind to it?
So after applying the vinyl and leaving 24 hours for it to dry (and crossing all my fingers and toes hoping it would work!) I climbed into the window and up a ladder to hang my baubles and plenty of snowflakes from invisible wire.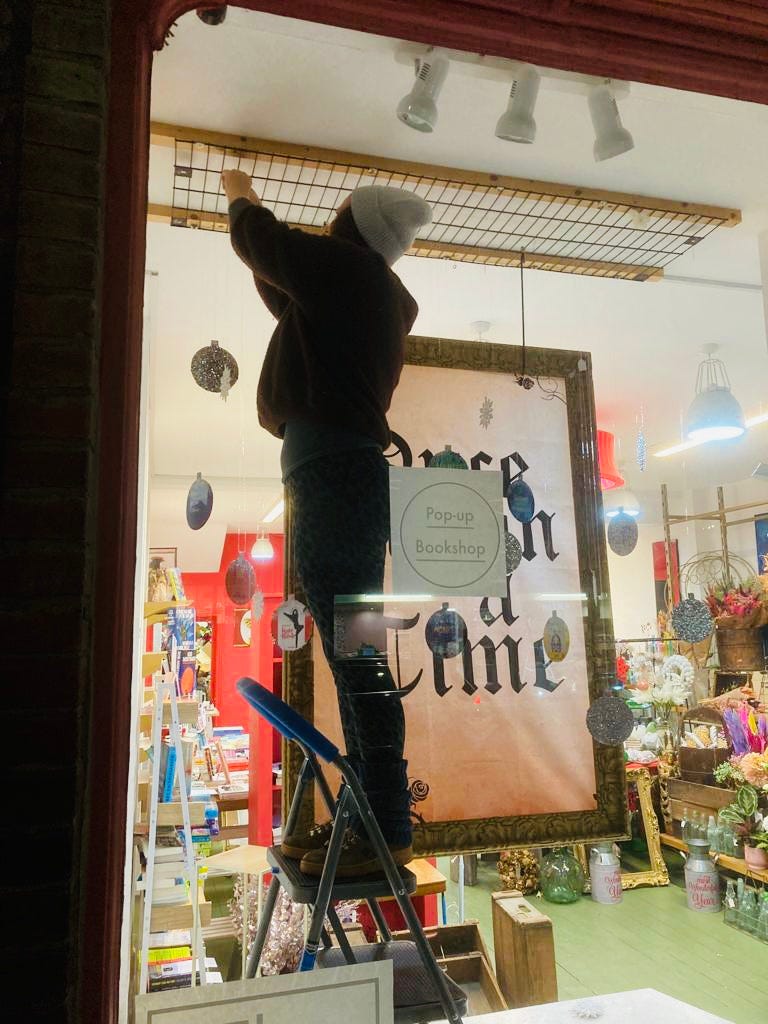 The next morning was the big reveal where I peeled back the paper on the vinyl to see if the window stickers had …. well, stuck. And, they had! Hurrah, a second career fitting shop vinyl awaits if the writing dries up!
Next it was dressing the window itself, fortunately I had brought up most of the iridescent tinsel and lights from B&Q, and, even if I do say so myself, I think it looks rather pretty.
It's amazing also, how the little 'pop-up bookshop' stickers match the baubles perfectly, so now we see if they will entice more people inside. Though I have to say that I have noticed more people popping in who are just passing, so the window is doing its job.
The other thing I've been busy with this week is book hampers. I've had lots of orders in from customers who are getting organised for Christmas. Some customers choose one of my Writers Recommend curations, or some build their own – one lady chose ten books and in one fell swoop had ticked off her entire family's Christmas gifts – how clever. Here are some of the book hampers I have delivered this week:
I've really enjoyed putting them together, in fact, on my desk in front of me there are two more hampers that need tying with ribbon.
I have only three weeks left in my current location inside The Bloom Foundry (55 St John's Road, Tunbridge Wells, TN4 9TP), and some of my regular customers are asking me if I've found anywhere to go to afterwards as they love popping in for a bit of bookish chat. Regular readers might remember a few weeks ago I had the chance for a permanent home in this parade, and I followed that opportunity eagerly but sadly it didn't amount to anything. However, I am still on the lookout for another location for a pop-up, or indeed a permanent home. I don't want this journey to end on December 24th, so I'm keeping my eyes peeled.
And then, finally, in other news, I sometimes forget that bookseller is not my main job and I am, actually, a writer first. This week I have filed my edits to Bloomsbury on book number three that I have written with Wendy Mitchell which is due to be published in June. Our previous two books together, Somebody I Used to Know and What I Wish People Knew About Dementia (both on sale in The Book Room) were both Sunday Times Bestsellers and we are hoping for the same success from book three which, as a little secret between you and I, is called One Last Thing. Not only have I managed to file my edit on this book, but also this week I have had three meetings with various publishers who are also interested in acquiring a new book proposal that my agent sent out recently. We have another meeting on Monday and then we'll see if they all make offers, that will mean an auction and auctions are very exciting indeed!
If you would like to visit The Book Room please come along Tuesday to Saturday 10-5, although I do have permission from her to open on Sunday, December 18! Hurrah!
More soon…
Anna